Volodymyr Bakhov, an internally displaced person from Mariupol. He came to Kryvyi Rih with his family at the beginning of the full-scale war in Ukraine. He worked in Azovstal all his life. After retirement, he took care of his grandchildren, was engaged in gardening and horticulture. Volodymyr recalls how a full-scale war began for him.
On the morning of February 24, I turned on the TV and saw a message about the Russian invasion. At half past four, the bombing of the city began. "Rushists" were very close, just 15 kilometres away, and they were waiting for the command.
I did not believe that there would be a war. I did not believe in it until the last day. And then it started... After March 8, phosphorous bombs were dropped on the city centre. I had never heard of them before. Buildings, cars in yards were on fire. Everyone who had unbroken cars, began to leave the city. And we quickly got ready for a trip. There were five of us - my wife and I, son, daughter-in-law and grandson.
We took with us only what we had time for. I arrived in a sports suit. The first emotions appeared in Zaporizhzhia, when we passed Vasylivka, where a checkpoint was destroyed a day before. There were mutilated cars with the sign "children" on the roadside. But the enemy did not care. We were able to exhale when we saw our military.
Our son's friend met us in Kryvyi Rih. He has a big family - three children. And the mother lives in Gleiuvatka. So we decided that there, outside the city, it would be better for me and my wife. Moreover, we are used to life in our private house.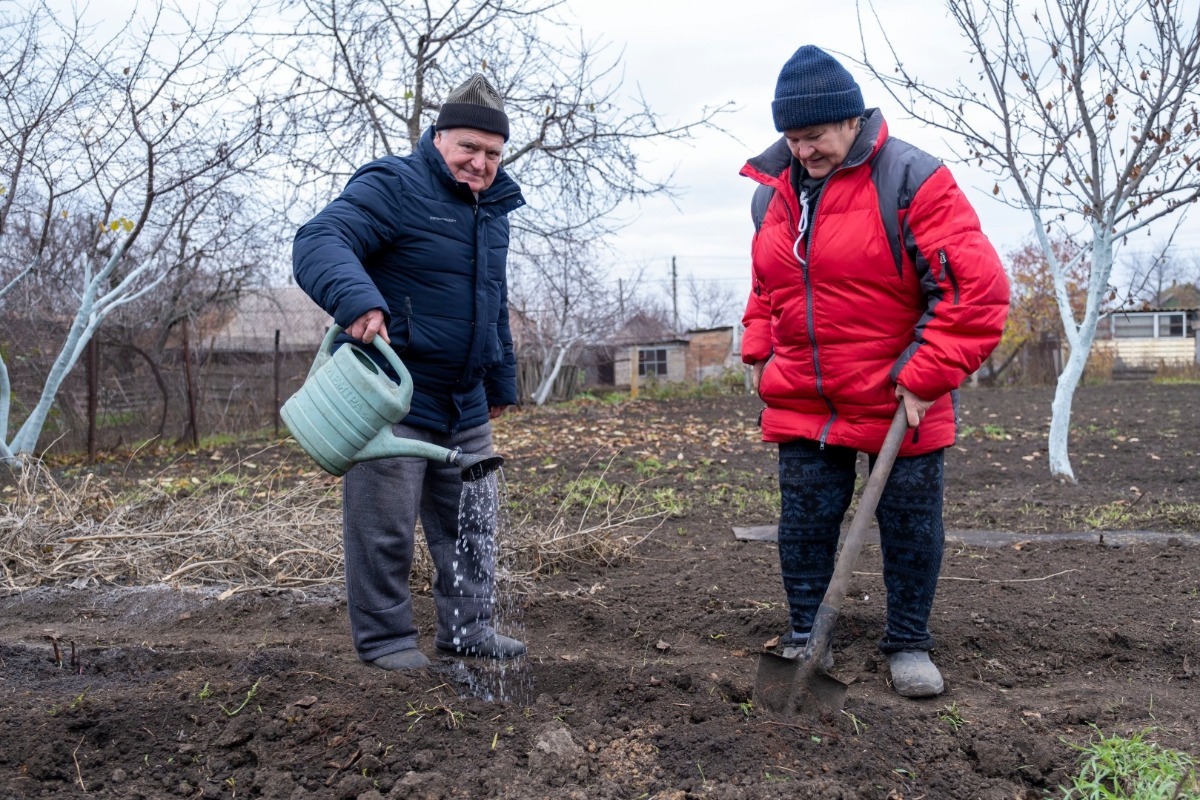 We were given a very friendly welcome in Gleiuvatka. The people here are incredible. They shared with us conservation, vegetables, flour, and household utensils. The village council immediately sent us to the school, where we were provided with everything they could help us with. We came with two forks, spoons and plates.
And then my son registered my wife and me in the district labor and social protection department. And we started receiving Saving Life food kits from Metinvest and the Rinat Akhmetov Foundation. Thanks to these kits, we survive. We arrived naked and barefoot. And the kit has everything you need - flour, oil, cereals, pasta, canned fish and meat. We have enough food for a month. Without this help it would be difficult. Then such kits were directly delivered to the village council and to our address.
We wish that the war would end soon and that Mariupol would be de-occupied. Because we are not comfortable with "rushists". All we have for them is hate. That is why we did not return home. But we are dreaming of it. As Mariupol is Ukraine.