Since the beginning of the full-scale war, Metinvest Group has been systematically sending equipment to the front line for defenders of Ukraine. In particular, as part of Rinat Akhmetov's Steel Front military initiative, they have already received almost 2,000 units of high-precision military optics: thermal imagers, binoculars and sights.
In the war, modern optics are the "eyes" of the army. Through them, the country's military can see the enemy in advance without exposing themselves to direct danger. Also, optical devices make it possible to aim at enemy targets accurately and destroy them quickly. To meet the army's needs, since the beginning of the full-scale invasion, Metinvest has donated almost 2,000 units of equipment of various modifications to various units of the defence forces, including 1,800 thermal imagers and thermal imaging sights.
So far, Ukraine's defenders have received almost 2,000 units of optics from Metinvest, which is strategically important in many aspects of military affairs
In particular, soldiers defending the Donetsk region recently received modern thermal imaging sights with a range of up to 2.5 kilometres. The equipment is crucial for detecting the enemy faster and is especially effective at night.
Oleksandr Myronenko, Chief Operating Officer of Metinvest Group, said: "These devices are always in demand among the military. And especially here, near Avdiivka, where fierce fighting takes place every day, almost without a break. It is thanks to the invincible defenders that Avdiivka is a Ukrainian city."
Metinvest sources, purchases and delivers to the front line the most advanced optics on the market free of charge. For example, the special forces of the Main Directorate of Intelligence received five LW75MG thermal imaging sights manufactured by Brolis Semiconductors. The equipment is recognised in Europe and NATO countries and used in many armed forces.
In addition, various units of the defence forces have received 100 binoculars and rangefinders for tracking targets and accurately determining the distance to the enemy, as well as 70 night vision devices. In particular, they will staff five mobile response and monitoring groups of the State Border Guard Service of Ukraine. With such optics, even at night, drivers will be able to move on cars without turning on the lights. All the devices received are high-tech and high-quality.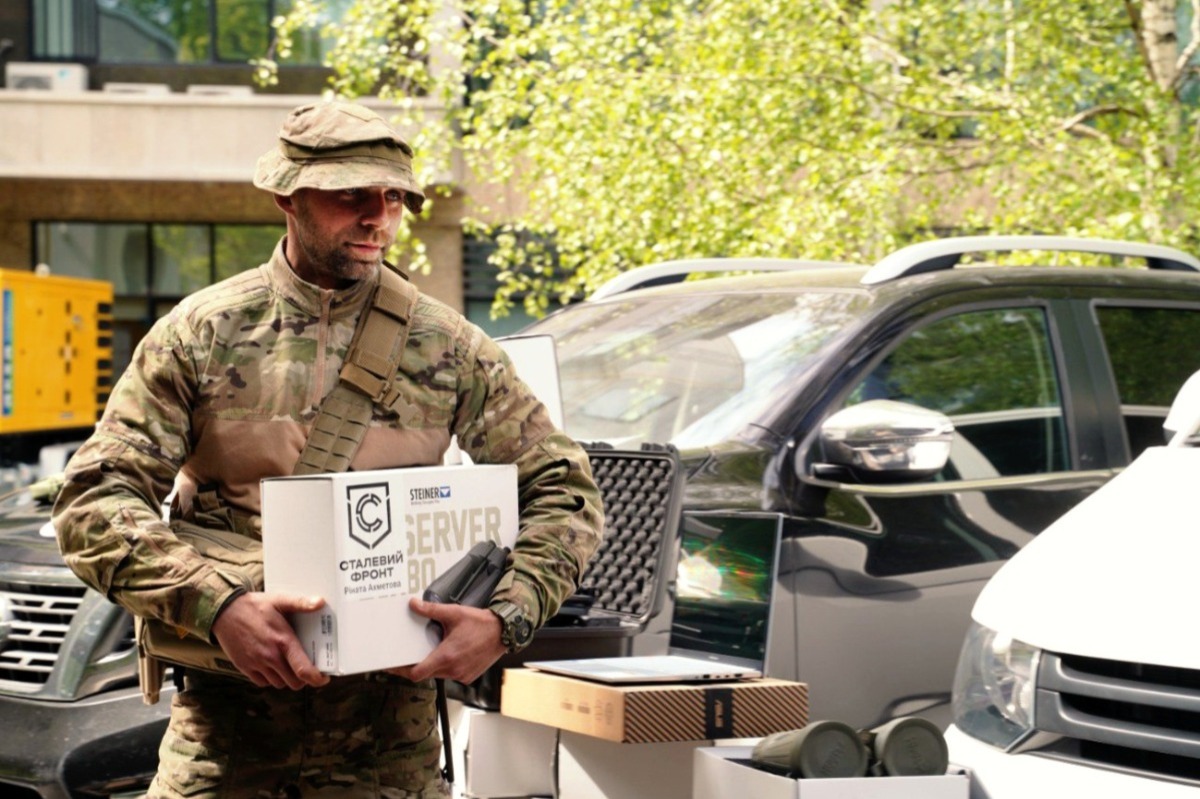 In the latest delivery, Metinvest donated optics and equipment totalling UAH10 million to the National Guard of Ukraine
Oleksandr Vodoviz, head of the CEO's PMO of Metinvest Group, said:
"Despite military optics being quite scarce on the market, Metinvest is doing everything possible to provide the defence forces with everything they need. Having modern thermal imagers, night vision devices, binoculars and rangefinders gives our fighters a great advantage on the battlefield. With equipment from Steel Front, they will be able to perform combat missions more safely and effectively.
In total, Metinvest has allocated UAH2 billion to support the Ukrainian army as part of Rinat Akhmetov's Steel Front military initiative. In addition to military optics, the army has already received more than 1,500 UAVs. This makes the Group the largest supplier of drones for the army among private businesses, excluding charitable foundations.
Read about the current situation at Metinvest Group's enterprises and in Ukraine in a special longread. Information is updated 24/7. Bookmark it and share it with your friends. Keep calm and trust only official sources of information.