During the war, the Russians have carried out atrocities that the international community increasingly sees as an act of genocide against Ukraine. Many international organisations have decided to immediately suspend Russia's membership and participation in their bodies. Unfortunately, we see that representatives of the aggressor country continue to participate in all Worlsdteel activities.
The Ukrmetallurgprom Association, which brings together Ukraine's leading metallurgical enterprises and mining and processing plants, as well as research, design and educational institutions, is not going to participate in any events attended by Russian representatives, as it has officially stated in a letter to the Worldsteel leadership.
_________
Mr. Sajjan JINDAL Chairman of the Worldsteel Association
Dr. Edwin BASSON Director General of the Worldsteel Association
Dear Mr. Jindal
Dear Dr. Basson
As you know, the war against Ukraine, that Russians cynically name as a special operation, is going for more than one and a half months already. For this time being, Russians demonstrated the worst sides of their behavior, destroying residential neighborhoods, hospitals, schools and kindergartens, eliminating thousands of innocent people – the whole world was shocked with their atrocities in Bucha, Borodyanka, Kramatorsk and other Ukrainian towns. Many countries support Ukraine in our struggle against the Russian aggression, and not only with military supplies, but with sanctions against the Russian regime, and many international organizations had decided to immediately suspend the participation of Russia in their bodies' activities.
We hoped that Worldsteel, as the largest and most respectable global steelmaking community would follow an example of mentioned above international organizations, and suspend the activity of Russian associations and companies as your members, but, unfortunately, we see that representatives of the aggressor's country continue to take part in all Worldsteel events
The Association UKRMETALURGPROM, as an authorized representative of the Ukrainian steelmaking community, is not going to participate in any event which representatives of Russia will take part in, so we would like to inform you that our association since today suspend our participation in all Worldsteel's bodies until Russian associations and companies will continue to take part in Worldsteel's activity. Of course, it is up to each UKRMETALURGPROM member to decide for their own to remain the active participant of Worldsteel while Russian side will attend Worldsteel meetings and other events, but as it was mentioned above, the Association itself suspends its Worlsteel membership
We hope Worldsteel will reconsider their position concerning the situation and make proper decisions to give an opportunity for Ukrainian and other civilized steelmaking associations and companies to return to the active participation in the Worldsteel's activity.
Regards, Oleksandr Kalenkov,
President of the Ukrmetallurgprom association
Ukrmetalurgprom suspends participation in all Worldsteel's bodies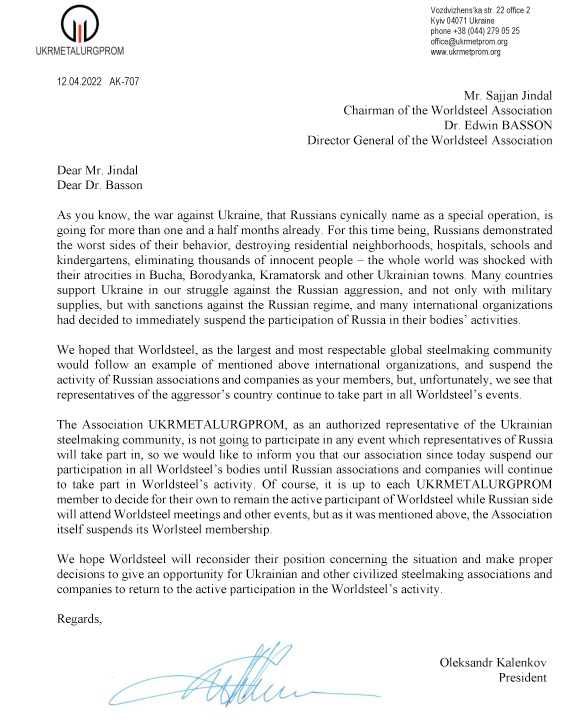 Read about the current situation at Metinvest Group companies on a special long-read. Information is updated 24/7. Bookmark and share with friends. Keep calm and trust only official sources.